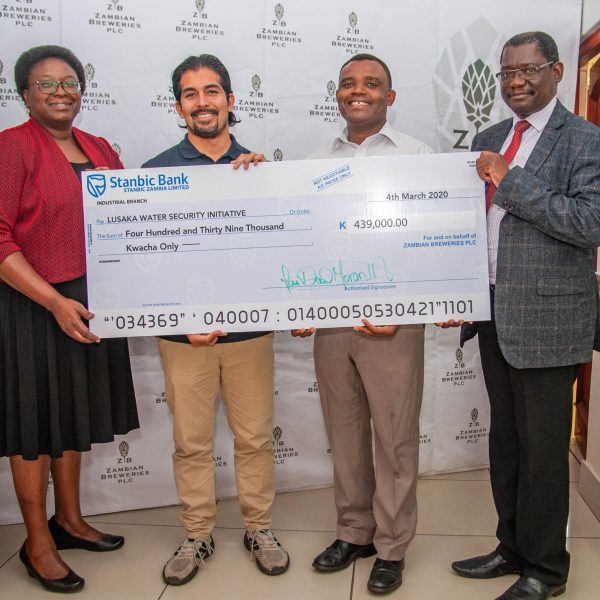 Zambian Breweries has donated K439,000 towards the Lusaka Water Security Initiative (LuWSI) in a bid to assure water security in the capital city.
The donation is the fulfilment of the company's pledge made to LuWSI last year to improve water and sanitation in Lusaka.
"Without water, we would not be able to exist, and actually, as human beings, without water there is no life," said Zambian Breweries Country Director Jose Moran as he handed over a cheque for the amount at a ceremony at its Mungwi Road plant.
Mr Moran further underscored the importance of water to ZB operations.
"We use water quite a lot to produce the product that we make. So, definitely it's very important for us," he emphasised.
Water stewardship is one of the five 2025 Sustainable Goals set by Zambian Breweries' parent company AB InBev. Other goals include smart agriculture, circular packaging, climate action, and entrepreneurship.
Mr Moran pledged the company's continued support towards water security in Zambia.
"This is just a humble contribution or support that we are making, but there is more; not only on material funds, but also around our capabilities," he said.
LuWSI Head of Secretariat, Kelvin Chitumbo, thanked the company for its support and said: It will go a long way to ensure we manage the secretariat and also the intervention we have planned as LuWSI."
LuWSI is a multi-stakeholder collaboration system between public sector, private sector, civil society and international actors inspired by and working towards the vision of water security for Lusaka residents and businesses.
The initiative aims at addressing factors affecting groundwater pollution in Lusaka. It has four core functions: to assess, prioritise and monitor water security threats and solutions; create awareness, education and advocacy for change: develop and implement projects; mobilise new actors and resources; and strengthen capacity for multi-stakeholder collaboration.
LuWSI was founded in 2016 and has over 20 partners from all sectors.