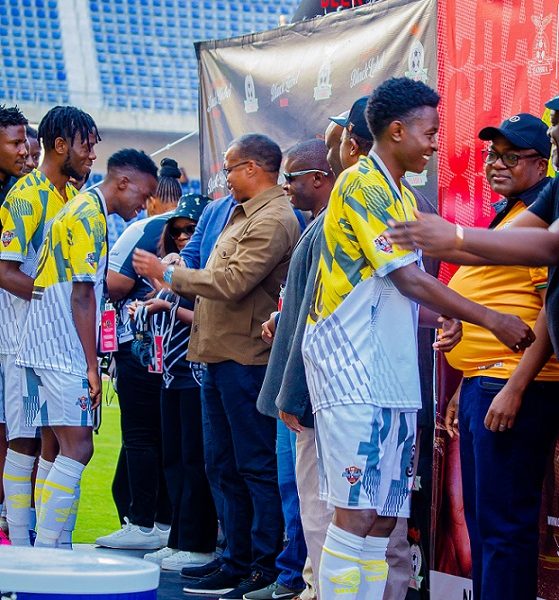 The Levy Mwanawasa Stadium in Ndola was alive with football fervour as the much-anticipated Samuel 'Zoom' Ndlovu – Charity Shield match, powered by Zambian Breweries Plc's iconic Carling Black Label, unfolded before expectant fans. The event was nothing short of an epic showdown between two titans of Zambian football: Power Dynamos, winners of the Zambia Super League, and Forest Rangers, the ABSA Cup champions.
This showdown, hosted by the Football Association of Zambia (FAZ) in partnership with Zambian Breweries, proved to be a historical feat for Forest Rangers who triumphantly lifted the Carling Charity Shield Samuel 'Zoom' Ndlovu Charity Shield Cup in an atmosphere of celebration and excitement.
Zambian Breweries' Country Head of Marketing Thelma Kaonga, expressed her personal delight, stating: "I am thrilled to be able to witness this high-energy clash between champions Power Dynamos and Forest Rangers. The game was filled with action-packed moments on the field. This sponsorship is about uplifting the champions of football and honouring their dedication, drive, and excellence on and off the field as much as it is about giving back to the community."
"The Black Label Champion Beer isn't just a beer; it's a symbol of champions," she added.
Forest Rangers emerged as the champions of the Carling Black Label Samuel 'Zoom' Ndlovu Charity Shield, securing victory with a commanding 3-1 triumph over Power Dynamos at the Levy Mwanawasa Stadium in Ndola. Zambian Breweries Head of Marketing Thelma Kaonga, Zambian Breweries District Manager – North Mike Hamwaba, and FAZ President Andrew Kamanga and the FAZ executive all extended their hearty congratulations to the winners. In addition, participating players and staff received commendation for their efforts.
Ms Kaonga further shared the brewer's broader commitment to football, as it continues its partnership with the Football Association of Zambia (FAZ) by sponsoring the Zambia Premier League for the 2023-24 season with a substantial sponsorship value of K3.18 million Kwacha. Zambian Breweries investment in the game is significant to and will help foster the growth and development of Zambian football programmes across all levels, extending all the way down to the grassroots.
The Carling Black Label-sponsored event, is named in honour of the esteemed football player and coach, Samuel 'Zoom' Ndlovu. It has become a permanent fixture on the Zambian football calendar, serving as both a prelude to the local football season and a charity fundraising platform with proceeds from the game donated to worthy causes over the years.
The one-day event showcased a display of skill and talent fueled by the enthusiastic fans who this year got to handpick the starting lineups for both teams.