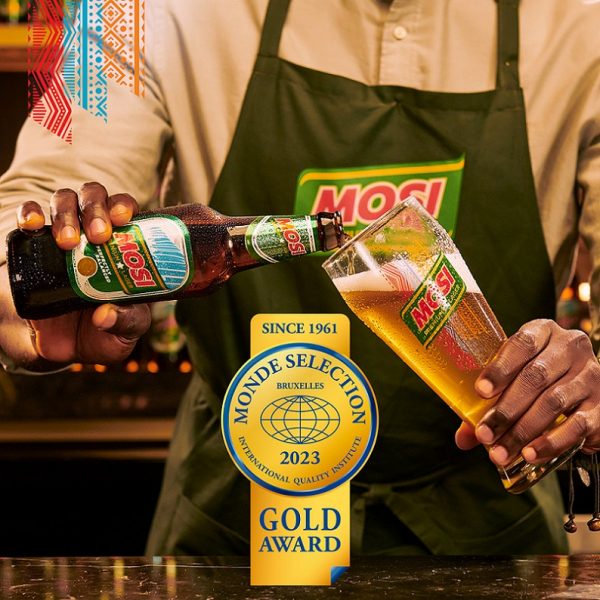 Zambian Breweries continues to raise the bar for beer excellence with the iconic Mosi Premium Lager being awarded its 5th Gold Quality Award during the prestigious Monde Selection 2023.
The world's leading quality institute, Monde Selection, has recognized Mosi Premium Lager for its exceptional quality, highlighting its position as one of the world's best beers.
For over 60 years, Monde Selection has evaluated consumer products worldwide on their quality and is one of the most experienced organizations in the field.
"When consumers see the Monde Selection Quality Award label, they have the confirmation and certainty of choosing best in class," said Mr Louis Poot Baudier, Managing Director at Monde Selection.
As a seal of excellence, the Gold Quality Award offers consumers the assurance that Mosi Premium Lager adheres to the highest quality standards. It is a demonstration of Zambian Breweries' commitment to crafting exceptional beers using the finest locally sourced ingredients and is reflected across its brewers, packaging department, quality team, and all service departments an teams involved.
"This recognition reaffirms our dedication to brewing the best beers and is a testament to our rigorous quality control systems. By using only, the best ingredients from our local farmers and employing stringent quality controls at every stage of the brewing process, we ensure the distinct flavors and premium quality of our beers," stated Franz Schepping, Brewery Operations Director at Zambian Breweries.
Consistency to excellence has led to the brewer's 5th Gold Monde Award, underscoring the brand's unwavering commitment to delivering superior quality beverages and highlights its continuous efforts to raise the bar and maintain its position as a leading beer producer.
"To win Gold in the Monde Selection International Quality Awards, you must master international quality. Regular quality controls at every stage of our brewing process, from incoming inspection of raw materials to the tasting of each batch, ensure the high quality of our beers," explained Mr. Schepping.
The accomplishment is not only a source of pride for Zambian Breweries but also positions Zambia as a leading producer of international standard beers that captivate the global palate.
Monde Selection, established in 1961 by the International Quality Institute, is renowned for evaluating, testing, and awarding consumer products with its unique quality label. Every year, international experts conduct independent taste tests and product evaluations from across the globe, making this award a highly sought-after recognition for exceptional quality.
"We highly value accuracy and integrity in our product assessments. Our jury members are always external to our organization and appointed according to their professional qualifications, their specific expertise and experience, and their independence," said Mr Dimitri Delloye, Managing Director of Monde Selection.