Our Smart Drinking Beliefs
Beer has been part of cultures around the world for thousands of years, and we believe that every experience with beer should be a positive one. We're a global company, brewing beers and building brands that will continue to bring people together for a better world for the next 100 years and beyond. This relies on thriving communities across the globe where harmful drinking no longer presents a social challenge. Our Smart Drinking commitments, and the beliefs that underpin them, will help make this vision a reality.
We believe that harmful consumption of alcohol is bad for our consumers, our colleagues, our families, our communities, and our business……And that means, we take seriously our responsibility to help reduce and prevent the harmful use of alcohol across the world.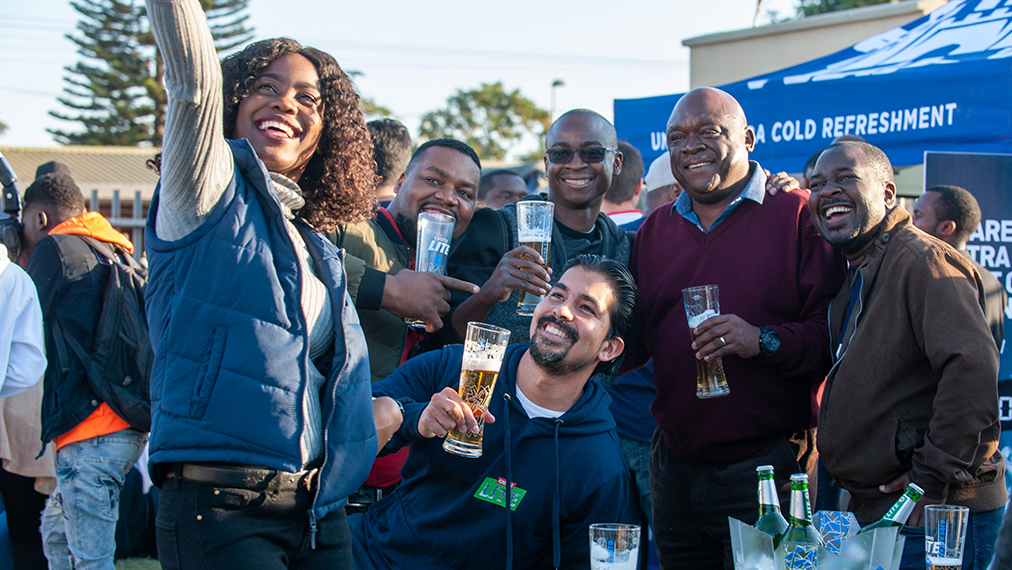 2. We believe in and share the WHO and UN Sustainable Development Goals' ambition to reduce the harmful use of alcohol by 10% by 2025…… And that means we have set ambitious Global Smart Drinking Goals for ourselves.
3. We believe in evidence-based solutions and that independent measurement and evaluation are key to progress…And that means, the AB InBev Foundation is promoting evidence-based approaches through the public health experts and independent evaluators they are working with, who will have full autonomy as they publish their results in reputable journals.
4. We believe that providing consumers with high-quality No- and Low-Alcohol beers (NABLAB) can play an important role in reducing harmful consumption…And that means we are developing a NABLAB marketing strategy that will give consumers choices and support better patterns of alcohol consumption.
5. We believe when you drive you should never drink…And that means, we fully support all targeted legislation and enforcement measures that have been shown to reduce impaired driving, including strict mandatory BAC limits in every country.
6. We believe in helping consumers understand why and how alcohol should be consumed within limits…And that means, we are working with partners to develop and implement evidence-based means of increasing alcohol literacy among consumers.
7. We believe the way we market our products matters and must be responsible…And that means, we work hard to ensure our marketing does not target underage consumers, reflects good taste and decency, and does not idealize harmful alcohol consumption or behaviors.
8. We believe that our products are not to be consumed by under-aged drinkers…… And that means, we promote, support and implement programs, public policies and campaigns to prevent, discourage, and reduce underage drinking.
9. We believe there is more work to do and that we don't have all the answers…… And that means, we collaborate with public health experts, governments and other partners who are willing to work with us, and listen to those with ideas for how we can accelerate or improve our progress.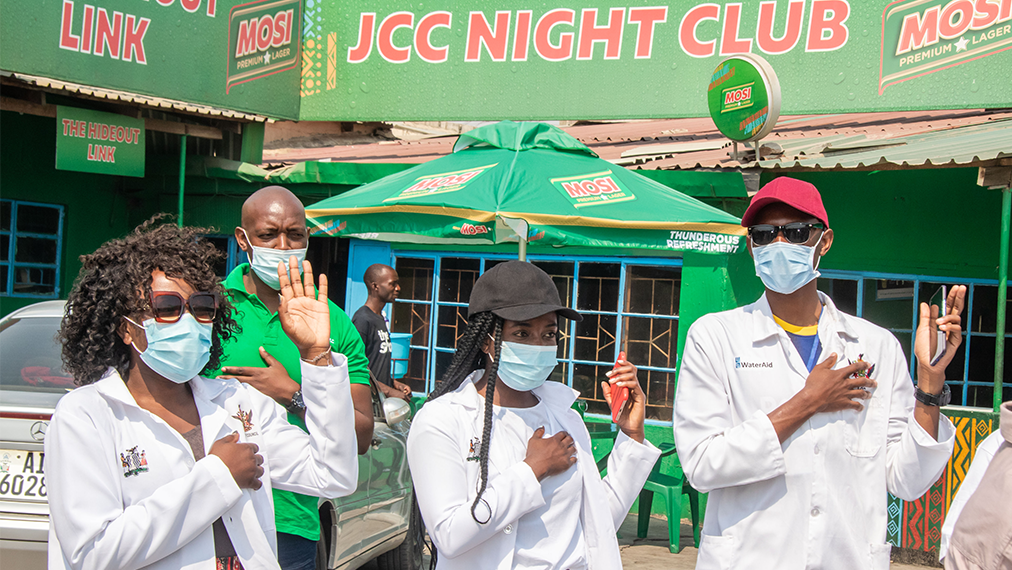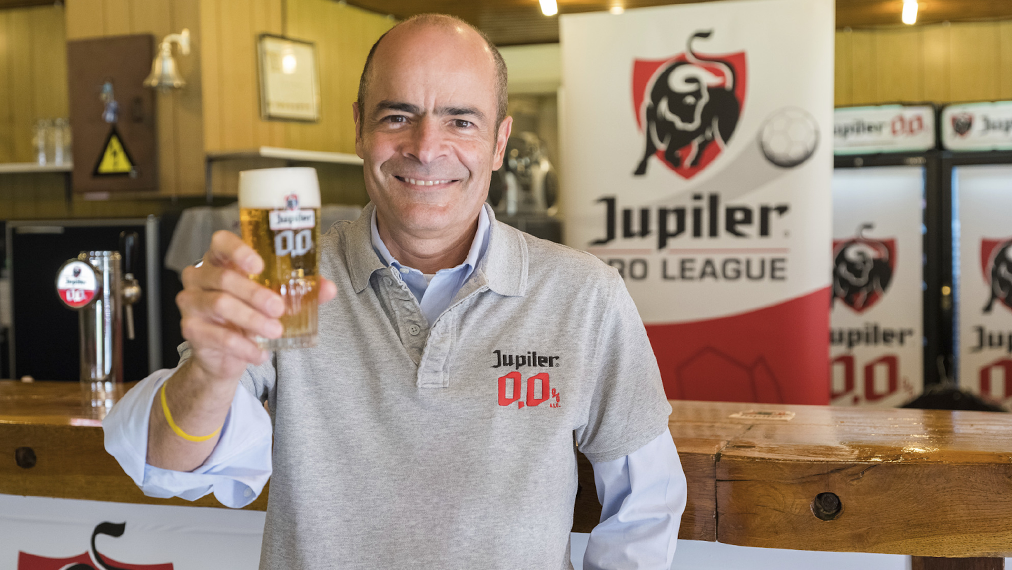 "Beer has been a part of cultures around the world for thousands of years, and at AB InBev we believe that every experience with beer should be a positive one. While we have made some progress, we know this is not yet the case. We are focusing on moving beyond awareness–raising to driving real change in our company and the communities in which we live and work through evidence-based interventions."
Our Global Smart Drinking Goals are a set of programs and initiatives focused on shifting social norms, consumer behaviors, and our own business practices — in order to make a tangible contribution to the reduction of harmful use of alcohol globally.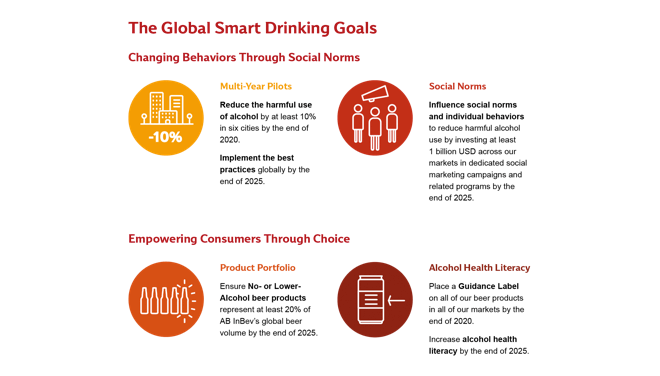 Goal 1: Reduce the harmful use of alcohol by at least 10% in six cities by the end of 2020. Implement the best practices globally by the end of 2025.
Goal 2: Invest $1 billion USD across our markets in dedicated social marketing campaigns and related programs by the end of 2025.
Goal 3: Ensure No- or Lower- Alcohol beer products represent at least 20% of AB InBev's global beer volume by the end of 2025.
Goal 4: Place a Guidance Label on all of our beer products in all of our markets by the end of 2020. Increase alcohol health literacy by the end of 2025.
Our Smart Drinking Initiatives
Changing behavior through Social Norms
Social Marketing Campaign
Alongside the implementation of our Responsible Marketing and Communication Code Policy, we are investing in the evolution of dedicated Marketing and PR campaigns to enhance messaging on the responsible consumption of alcohol, driving the consumer to be our most important Smart Drinking Champion.
In October, 2018 we launched a youth program sensitizing against Underage and Binge Drinking and encouraging Leadership thought process. The program partners with various organisations and social influencers.
Road Safety & City Pilots
We collaborate with and sponsor Road Safety Awareness Programs with the Road Traffic and Safety Agency for reduced harm and incidents caused by Drink Driving. Initiatives such as Ride Share and the Thunder Bus during our Festivals as well as Breatherlysers Sponsorship are part of harm reduction agenda.
Recreation/Skills for Harm Reduction
Sports & Entertainment are some of the avenues in which behaviour change can be implemented. We implement initiatives that draw on the positive social interactions of young people in order to deter them from negative vices.
Chibolya Media Farm: Youth Empowerment and Mentorship through development of media skills (Collaborative partnership with Every Moment Connections)
Rehabilitation of the Bauleni Sports Centre: Youth Empowerment and Mentorship through the advancement of a local recreational facility alongside coaching and leadership through process (Collaborative partnership with Bauleni United Sports Academy & Drug Enforcement Commission)
Illicit Alcohol Awareness
Every few years we conduct a research on the role of alcohol in the economic landscape of Zambia and Southern Africa at large – A collaboration with Euromonitor and ABInBev Africa Head Office and Illicit Alcohol continues to be identified as a significant source of revenue loss for the country. We continue to promote awareness through information sharing and collaborative partnerships with;
a) City Councils
b) Zambia Revenue Authority
c) Ministry of Health
d) Ministry of Commerce, Trade & Industry
e) Ministry of Finance
f) Trade Associations
Empowering Consumers through Choice
We offer a number of Brands in our portfolio and continue to invest in research for the innovation and reformulation of our brands to include low alcohol and no alcohol options in our portfolio.
We continuously improve our responsible messaging and guidance labels on all our packaging to enhance the consumer's literacy and awareness on responsible alcohol consumption.
The decision of whether to drink and, if so, how much to drink is a personal one.
You should consult with your doctor or primary health care provider who can help you understand your personal risk profile and advise you as to whether drinking in moderation can be consistent with your personal health plan.
For people with particular health issues or a family history of certain diseases, the best course of action is to refrain from drinking altogether.
In addition, it is clear that:
– Pregnant women should abstain from drinking
– Underage people should not drink.
– Excessive consumption of alcohol should be avoided.
– And no one should drive or operate heavy machinery after drinking.
Many governments throughout the world have provided information on the risks associated with drinking and published guidelines1 related to alcohol consumption.
Links to some of these are listed below.
For example, in the US, the dietary guidelines suggest that: "If alcohol is consumed, it should be in moderation—up to one drink per day for women and up to two drinks per day for men—and only by adults of legal drinking age."
The US dietary guidelines also advise that "high-risk drinking is the consumption of 4 or more drinks on any day or 8 or more drinks per week for women and 5 or more drinks on any day or 15 or more drinks per week for men."
In 2016, the United Kingdom's Chief Medical Officer revised that country's Low-Risk Drinking Guidelines,2 making the recommendations the same for men and women, concluding:
"To keep health risks from alcohol to a low level it is safest not to drink more than 14 units a week on a regular basis.
"If you regularly drink as much as 14 units per week, it is best to spread your drinking evenly over 3 or more days. If you have one or two heavy drinking episodes a week, you increase your risks of death from long-term illness and from accidents and injuries."
"The risk of developing a range of health problems increases the more you drink on a regular basis."
"If you wish to cut down the amount you drink, a good way to help achieve this is to have several drink-free days each week."
The World Health Organization (WHO), in its 2014 Global Status Report on Alcohol and Health, associates the "harmful use" of alcohol with an increased risk of adverse health outcomes.
The WHO report divides these outcomes into the following major categories: neuropsychiatric conditions, gastrointestinal diseases, cancers, intentional injuries, unintentional injuries, cardiovascular diseases, fetal alcohol syndrome, diabetes, and infectious diseases.
ADDITIONAL EXAMPLES OF INFORMATION AND GOVERNMENTAL GUIDELINES ON DRINKING & HEALTH
Physicians are best situated to provide guidance on your alcohol consumption. They can advise you throughout your life on how your current drinking patterns may impact your health, taking into account the latest medical research, your overall health status, your personal and family medical histories, and your environment, among other factors.
Below are links to additional sources of information on drinking and health provided by the governments of many countries, public health agencies, and organizations, and industries.
This abbreviated list does not represent all available resources on the subjects addressed. Rather, these links are provided solely for ease of reference. AB InBev is not responsible for the content of external links and is not stating a view or endorsement of any particular link by its inclusion or exclusion here.
WHO
The World Health Organization has issued a variety of reports on the subject of alcohol and health. They may be accessed here: https://www.who.int/news-room/fact-sheets/detail/alcohol.
IARD
The International Alliance for Responsible Drinking has published reports on medical studies regarding drinking and cardiovascular disease, metabolic disorders, obesity, cancer, fetal alcohol spectrum disorders, and liver disease, which can be accessed here: https://www.iard.org/science-resources/category/health.
A summary of various other nations' guidelines can be found at https://www.iard.org/science-resources/detail/Drinking-Guidelines-General-Population